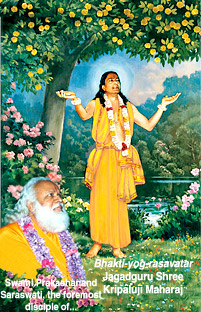 His Divinity Swami Prakashanand Saraswati (Shree Swamiji) was born in a respectable brahman family in 1929 in Ayodhya. He took the order of sanyas in 1950. Seeing his renunciation, determination and deep devotional feelings for God, in 1952, he was offered to become the Jagadguru Shankaracharya of Jyotirmath but his heart was drawn towards the love of Radha Krishn so he did not accept the proposal.
Later on he came to Braj and spent almost 20 years in isolated and secluded (leela) places of Braj, mostly in Barsana, in loving remembrance of Shree Raseshwari Radha Rani and Krishn. With the will of Radha Rani, he started teaching the path of raganuga bhakti (divine-love-consciousness) since 1972.
He is the founder of the "International Society of Divine Love" and "Barsana Dham" in the USA, and the "International Society of Divine Love" and "Rangeeli Mahal Pratishthan" in India. He has written eleven books on the practical (devotional) aspects of God realization.